A beautiful and energy boosting vegan homemade red velvet latte.
The perfect breakfast for Valentine's Day or to enjoy as a cosy and warm latte or summer drink. This dairy-free red velvet beetroot latte is easy to make at home and boosts your energy while conforts all your senses. The latte to fall in love with.
Finally back to my food photography, Pinterest management and developing new pegan (vegan & paleo friendly) recipes. I moved from Madrid (Spain) to London (UK) during last Christmas and New Year's season, and it's been such a chaotic but pleasant time, that I couldn't help but enjoy this beautiful new episode of my life with all my senses. I am discovering many new and exciting ingredients from all over the globe (I will post new recipes with them soon), and also fascinating dishes with impossible names that I can't wait to share with you. London is a magical city to discover traditional recipes from around the world, if you are a foodie like me you will love it.
At the end of the day, you can only experience this beginning once, and I need it to do it really focused on all the new experiences (new local shops, cafes, restaurants, parks, museums, neighbours…)
Routine will come soon, it always does, so when that happens I will be ready and charged full of energy!
Part of the chaotic phase has been not only packing, folding and moving boxes (Sharing Mental Note: next time hire a company, will be quicker and without back-pains), but also waiting for all those boxes to be delivered in London… yes, still waiting after almost 2 months. However, I must admit that I only miss my ingredients and cooking tools (bless them wherever they are!), apart from those, if I had to write down what I packed in all those boxes, I wouldn't remember, not even half of it.
All my food photography accessories like kitchen towels, backdrops, plates, cutlery and mugs are also on its way, so I decided to take advantage of every corner of my new home and challenge my food photography, meaning changing the colours I used to use and angles. Actually, a new fresh look but keeping my visual identity.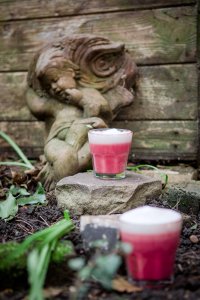 Valentine's Day Special Latte
Love is what turned my world upside down and why I decided to move to London. Love is what I feel when I develop new recipes and grab my camera to take pictures to share with you… and… I've found this cute angel in the garden! I think those were enough direct signs to create a special drink for Valentine's Day.
This creamy latte is a good drink to prepare for this special day, but also this attractive and magical pink makes it a great drink to serve at any event, especially for a kids party. It only uses raw ingredients, naturally flavoured, and doesn't contain caffeine.
The combination of the beetroot with freshly zested orange, and the flavours create a superfood pink treat that can be served warm or cold. There is no doubt that this homemade red velvet latte pleasantly captivates most of the senses, but it is also a healthy treat for our body.
Pinterest during Valentine's Day
Even if you are a food blogger and are already using Pinterest as a marketing tool or you are a Pinterest user looking for Valentine's Day recipes or food inspiration, you probably have noticed that Pinterest scheme colour changed slightly to pink and red pins, showing many heart shapes and Valentine's ideas. That is what users are searching for, so help them finding what they need by creating helpful food blog posts with outstanding food photography.
You can read more about Pinterest for Food Bloggers and Photographers in my blog. If you prefer assistance with your Pinterest Account, I will be happy to receive your email! Contact me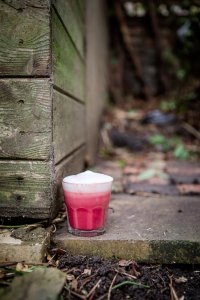 How to make Red Velvet Beetroot Latte
Serves 3
Beetroot is full of vitamins and minerals, although its high levels of antioxidants make it one of the most potent detox vegetables.
I have used a blender to make this recipe creamy like a smoothie with the almond milk, but if you want to make it a little lighter, you can also use a juicer to extract the juice from the beetroot and after that, mix it with the rest of the ingredients.
Ingredients
half beetroot (peeled)
3 cups unsweetened almond milk
3 dates pitted
1/3 tsp ground nutmeg
1 1/2 tsp ground cinnamon
1/2 tsp ground ginger
1 tsp coconut oil melted
pinch of black pepper
1 tsp orange zest and more to decorate
For a warm and cosy red velvet latte: Blend the beetroot with the dates and almond milk until smooth. Pour the mixture into a sauce pan over medium heat. Mix with the rest of the spices, oil and orange zest and stir until fully combined. Serve creamy and warm.
For a refreshing beetroot latte experience: Keep the milk and beetroot refrigerated overnight. Use a blender to mix the beetroot, milk, dates, all the spices, orange zest and oil. Once well combined, serve cold or refrigerate for 1 hour.
Extra tips for a super creamy end: Want a beautiful milk foam barista topping? This is how to froth coconut milk to decorate your latte with a silky milk layer:
Use 1 cup of warm unsweetened coconut milk (if you use tinned milk for cooking, make sure the ingredients are only coconut and water down a little). Use a milk frother wand (you can find it very cheap in many shops) to create a nice and silky coconut foam. Pour the foam with the help of a spoon on top of your latte, and decorate with cinnamon or orange zest.
---
Want to have some inspirational recipes like this directly to your inbox?
Sign up!
XO Bea