How to make the perfect matcha chia pudding
I love chia parfaits and puddings. Since I discovered this super food, chia is not in my pantry anymore… it is in the front line on my kitchen table. I use it almost everyday for quick but energetic breakfast to grab and go. After many recipe tries, I've come up with the one that I feel confortable with.
As you might have noticed, I reduced my refined sugars intake in my diet. Which means that my body doesn't need or begs for super sweet food anymore. I rather prefer and enjoy the taste of the real ingredients, using fruits or other natural sweeteners to my recipes. During this transition, I have noticed that my taste preference has changed from sweet to sour favours preference. Have you noticed this too?
That is why sour breakfast like this green matcha with cranberries and baby kiwis makes me droll lately. But if you have a sweet tooth, there are many possibilities to create delicious chia parfaits, Why don't you try this Plum & Fig pie chia pudding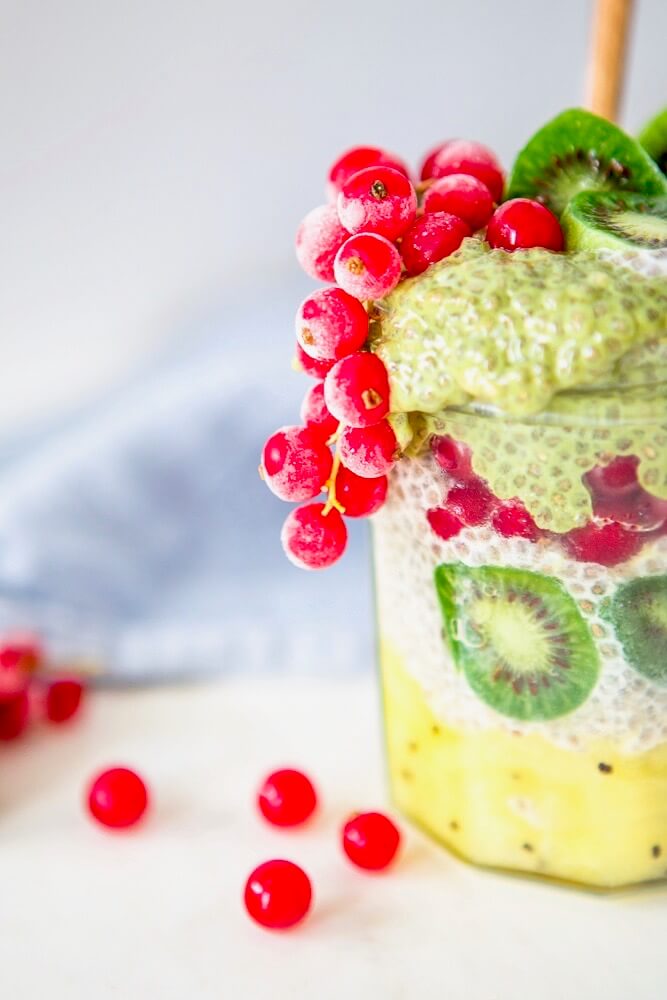 There is nothing like a healthy, full of vitamins, breakfast for cold mornings. Cranberries and kiwis are a great source of vitamin C, and if we add organic matcha to the chia mixture, we have a super energy booster sweet-sour breakfast!.
Below you can find the best portions or measure of ingredients to get the perfect sugar free, vegan and paleo breakfast or dessert. Packed with protein, omega 3 and vitamin C.
Have you ever tried baby kiwis? They are very easy to eat, sweet & sour and the seeds are so small that are imperceptible. Their skin is very thin and fragile what makes the cultivation a delicate job. Although they are small, it contains all the benefits that we can find in regular kiwi, a small delicatessen to top your chia breakfast.
Baby kiwis & currants with green matcha chia pudding recipe:
2 serves
Chia pudding Base:
6 Tbsp Chia seeds
2 cups almond milk (or your favourite vegetable milk)
1 Tbsp maple syrup or raw honey
Organic green matcha chia pudding:
Add 2 tsp organic Green Matcha powder in half chia seed base + 1tsp maple syrup or honey
Baby Kiwis for decoration and 1 smashed kiwi
A bunch of cranberries
Have a great day full of vitamins!.
Want to have some inspirational recipes like this directly to your inbox?
Sign up!
XO Bea