This is the quickest way to make plum and fig pie compote for breakfast.
Plum or fig tarts are delicious desserts in Autumn, but what if you want to make a healthy and quick breakfast to take to your office? Then you will love this recipe. The combination of spices like cardamom, cinnamon or vanilla with smashed fruits is unbelievable, it is so easy to make at home and sugar-free that you will think why you didn't do this before! You just need seasonal fruits, a pan or microwave to turn them smooth and tender, some lemon and they are just ready to complement the best chia pudding or oatmeal porridge. This recipe is already pinned in my Pinterest account LaChicaBites , inside some boards like Paleo Sweets or Vegan Sweets , but you can share it by pinning it to your Pinterest account! You will make my day!.
You know that you can find many Pinterest tips inside my blog and my newsletter, but want to hear another Pinterest tip today?
If you love food, you have probably saved many recipes on Pinterest. Food and drinks is one of the top categories on Pinterest, there are more than 15 BILLION recipes in the platform!… ok, wait here, you must be thinking: How can I make my recipes be seen then?… Don't worry, I've got you covered, let me help you standing out from the crowd: contact me or stay tuned to my posts.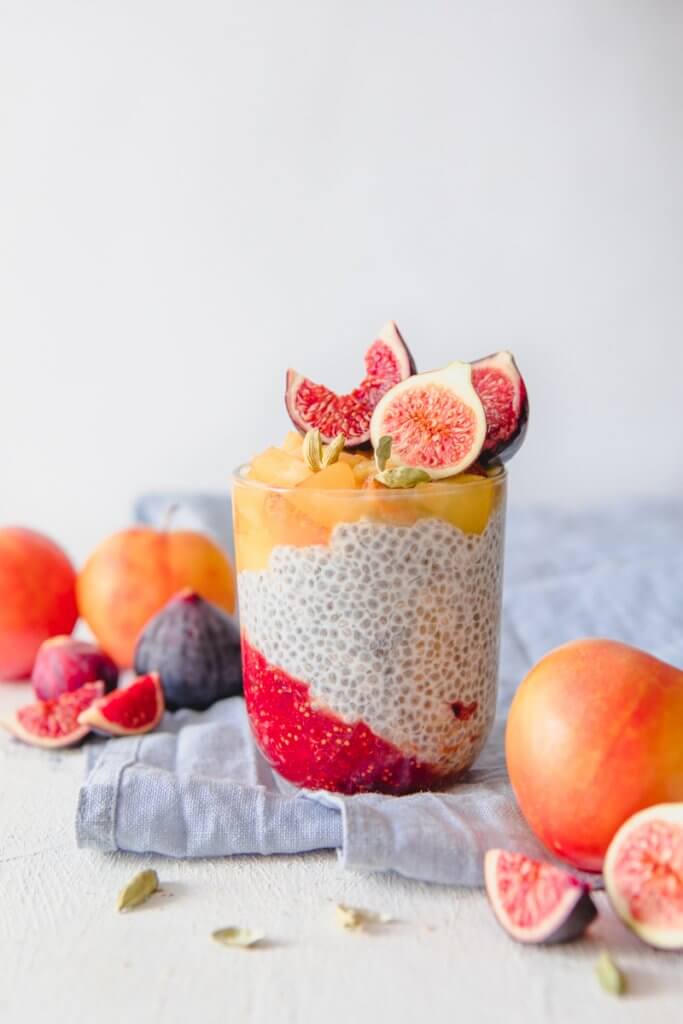 Recipe of an easy Chia Pudding with Plum & Fig Pie Compote
Chia parfait:
1+1/2 cups unsweetened almond milk or your favourite veg. milk + 4 Tbsp chia seeds.
Mix and set overnight.
Figs and Cardamom pie quick jam:
microwave for 1/2 min a bunch of ripe and peeled figs.
Mixed with 3 cadamom pods and mash all together. Add 1 tsp lime/lemon juice.
Sweet Plum pie quick jam:
2 plums peeled and diced mixed with 2 tsp cinnamon + 1 tsp maple syrup.
Microwave for ½ min and mash all together.
Want to have some inspirational recipes like this directly to your inbox?
Sign up!
XO Bea