Easy and quick homemade smoked paprika & garlicky gluten free naan bread
With only 4 ingredients in the base you can create numerous versions of this paleo and vegan friendly flatbread. In this occasion I opted for a coriander, smoked paprika and garlic flavour, which makes it super tasty. The best recipe to serve with many different dishes.
The benefits of meeting your Instagram followers – foodie friends
It was the second time I attended to an Instagram foodie meeting with some of the followers converted already in friends, and we all had to make some of our best healthy recipes to share. Have you ever attended to one of this foodie meetings? I can't describe in words how intense and surprisingly good is to meet people you only had contact through a screen, you exchanged comments everyday and talked… and finally you get to know them in person. This is when the word "social" from social media makes all its sense.
All of us, with a starting shy attitude and our food bags full of delicious recipes we immediately started to ask about our lives as if we knew each other from long time ago! Asking for our pets, our diets, jobs, all that we discovered by reading our posts and Instagram content. We fell confident to talk about our problems or our passions because we knew that we are supportive to each other. When you have foodie Instagram friends that they've been reading and commenting on your  Instagram many times, they know you and you know them more than you can imagine, and so the conversation flows smoothly.
Every time we tried one of the meals, we listened carefully to each one, giving our opinions, tasting and sharing tips. Really, it feels so real to finally meet friends that share the same passion about healthy food and healthy lifestyle. We are a little community with different diet plans and Instagram styles, but with a strong commitment and passion of sharing our recipes. Instagram can be the greatest social media platform if you are open to meet the person behind the screen.
My meal contribution to the foodie meet-up
After having the confirmation that I could use the kitchen to quickly use the pan  (thanks Pilar for your fabulous kitchen!), I decided to cook an Indian pegan recipe, inspired in the Autumn season. A delicious veggie Korma with pumpkin and peaches served with this garlicky pegan bread.
I had the mixture of the gluten-free, grain-free and dairy-free naan bread ready to toast, the sauce with Spanish olive oil, garlic and coriander leaves, and the Indian Korma with peaches and pumpkin really to be shared.
The table was full of colours and delicious recipes: from hummus to toasts with baked veggies, chocolate cake and banana with figs bread… Amazing!.
This was my recipe contribution with a veggie autumnal korma. This grain-free and dairy-free naan bread is toasted and brushed with a special Spanish Extra Virgin Olive Oil and paprika salt from NatureVie Gourmet products, and I used coriander leaves instead of parsley to match the Korma Indian style.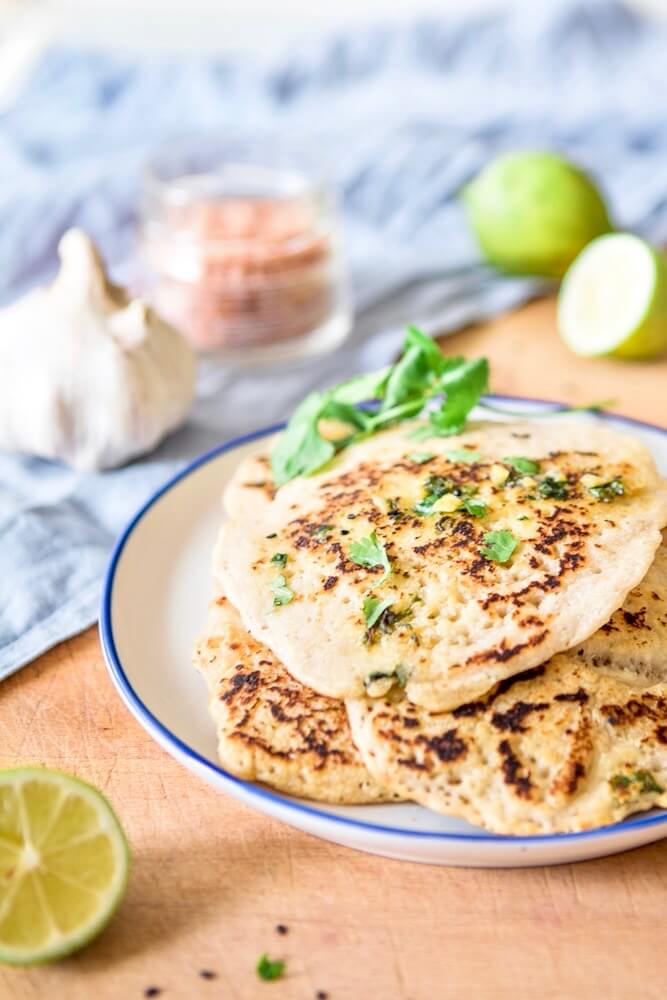 Recipe for an easy pegan (paleo & vegan) garlic & smoked paprika naan bread:
The best flatbread to share with a delicious Indian vegan korma or curry stew! You won't believe how easy and fluffy these slices are
1 cup almond meal
1 cup tapioca flour
1+1/2 cups coconut milk (from a can)
2 Tbsp nutritional yeast
1 tsp smoked paprika salt
1/2 tsp baking soda
Mix the dry ingredientes in a bowl and add the coconut milk (the richer the better, take the can with the higher percentage of coconut milk). Stir until you get no crumbs.
Recipe for the best garlic sauce:
3 Tbsp EVOO
a bunch of cilantro leaves
1 big clove of garlic
paprika salt and pepper to taste
Smash everything together in a mortar.
Instructions to cook this pegan naan bread: Medium heat a frying pan with a dust of the garlic sauce, add 1/2 cup of the naan mix and wait until golden toast. With a brush, spread more garlic sauce on the uncooked side, flip it over and wait until golden. I like to add spread more sauce in the cooked side, and flip it over again to cook it for 10 sec.
Want to have some inspirational recipes like this directly to your inbox?
Sign up!
XO Bea